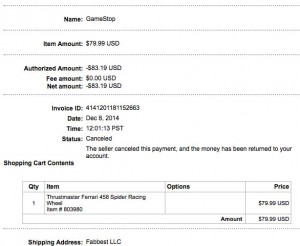 About 90% of my holiday shopping for several years have been accomplished online. It's been problem-free until now, with GameStop® (NYSE: GME). A timeline of my experience is as follows:
12/01/14: Purchased a Thrustmaster Ferrari 458 Spider Racing Wheel (Xbox One) for $79.99, the best price I found.
12/09/14: Received notification from orders@gamestop.com about an unforeseen shipment delay. They have identified the problem and sending out the order that day.
12/17/14: Received another notification that the order has been cancelled either on their side due to "their system being unable to process my order" or cancelled by me, and to try another payment method or reorder the item.
Checking Paypal, I confirm that the cancellation was done by GameStop, no reason provided. I visit GameStop.com, found the item unavailable for online ordering but could be found in one of their corporate-owned stores. Lo and behold, the price is $99.99.
12/17/14: Sent an email inquiring why the order has been cancelled. No reply besides an automated receipt, but:
12/18/14: Form notification of order cancellation:
Due to an unforeseen inventory issue, we will be unable to ship your order # 4141201181152663. Your order has been cancelled, and you will not be charged. We truly appreciate your business and want you to know how sorry we are for our mistake. We hope to see you back soon. If you have any questions or concerns, please don't hesitate to let us know. You can respond to this email, or if you prefer to speak to someone directly you can call 1 (800) 883-8895. Our team is available 7 days a week from 8 AM to 8 PM CST.

Have a wonderful day,
Your friends at GameStop.com
What do you think, should they expect to see me back soon? What about arrange for one of their retail stores to hold the available item for me to pick up? These are not franchises, they are corporate-owned; two of which are within five blocks of me. This would have been a great opportunity for GameStop to correct their "mistake" and avoid sending me elsewhere with my money. While the $20 mistake may not mean a costly outcome on their end, is it so tough to rectify inventory or pricing problems with a fall-back solution that's literally within the customer's proximity?
---
Update
12/18/14: GameStop's reply to my request on 12/17 to pick up the item at their store